Wind is one of the most destructive forces that can affect a roof. WindSmart Roof Systems use science by harnessing the wind to achieve more wind-resistant, higher performing, low-slope commercial roofs.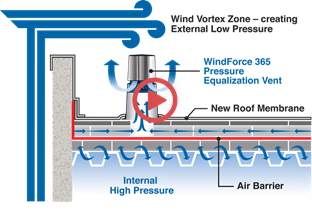 HOW THE WINDSMART SYSTEM WORKS
WindSmart roofs use wind currents to "vacuum-pack" the entire roof and underlying structure to provide positive benefits from wind uplift.
TESTIMONIALS
A JM/WindSmart® Vented Roof System can be configured so the roof is very resistant to wind, rain and hail, with one of the lowest life cycle costs of any commercial roof system in the marketplace. In the video below, listen to what roofing professionals are saying about WindSmart Systems.
---
---
Are you ready to harness the wind using JM/WindSmart® technologically-advanced vented roof systems?
Contact Larimer/Shannon Group at 770.272.9090 or solutions@lsgrp.com.